Edith kanakaʻole
Ka Uluwehi o Ke Kai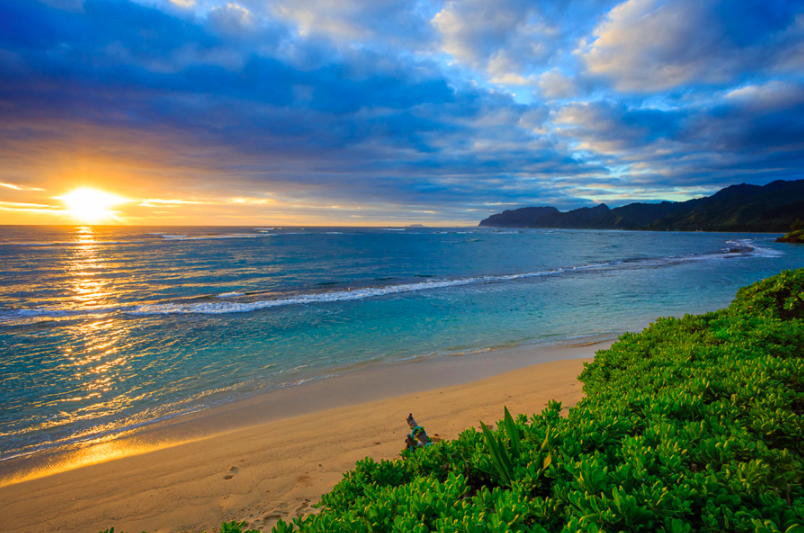 Moʻolelo: Kalikoaloha Martin
Moʻolelo: Kalikoaloha Martin
Mānaleo Series
These short clips of a native speakers on Ka Leo Hawaiʻi talking about their lives and practices are invaluable windows into our past, our language, and ourselves. Our mahalo kūhohonu goes out to Larry Kimura and Puakea Nogelmeier for their foresight in preserving the voices of these hulu kupuna.
Listen and read along:
1. Press play on the video below (ensure volume is up).
2. Scroll down and read along in the language of your choice.
3. Repeat as needed.
*Mobile users: Touch the video two times for the button on the upper left and minimize the window to listen and read at the same time.
Edith Kanakaʻole talks about writing her famous song Ka Uluwehi o Ke Kai.
LK: Pehea, pehea mai nei kēia mele āu e hīmeni mai nei i kēia manawa?
EK: Well, kēia mele, naʻu nō i haku i, ohhh, i nā makahiki kēia i hala, no ka mea ʻo koʻu mea hoihoi loa ka hele i ke kahakai nō hoʻi, (LK: ʻAe.) ka lawaiʻa paha, ka hana limu, a koʻu mea hoihoi, no laila noʻonoʻo au, a, e pono au e haku i kekahi mele e pili ana i nā ʻano limu like ʻole. 
LK: Mmmm. 
EK: A i koʻu wā - makamua o koʻu hele ʻana mai a hele ahh, koʻu kaʻahele i, ahh, i Lāʻie, a honi nō hoʻi au i ka ʻala o ka līpoa nō hoʻi, auē! Nui koʻu hoihoi e pili ana i ka līpoa nō hoʻi. Ke one hinuhinu nō hoʻi. Ka pae ʻana nō hoʻi o ka līpoa.
LK: Nanea nō hoʻi paha ʻoe i ka hele kahakai, eh? 
EK: ʻAe! ʻAe! Nanea. Nui ka nanea! A i Keaukaha nō hoʻi ko mākou hele ʻana e iho nō e kiʻi i ka limu kohu nō hoʻi, a e ʻau aku ʻoe a i luna o kahi moku nō hoʻi.  
LK: ʻŌkiakia, eh?
EK: ʻAe. ʻĒ, nui ke kai.  
LK: Mmm. 
EK: A i kou nānā ʻana i luna o kēia moku, ua nui ka limu kohu, akā i kou kokoke ʻana, piʻi mai ke kai. 
LK: ʻAe. ʻAe.  
EK: ʻAe, no laila, nui koʻu noʻonoʻo i ka limu kohu nō hoʻi. Kohu mea ʻano hoʻohaehae ana.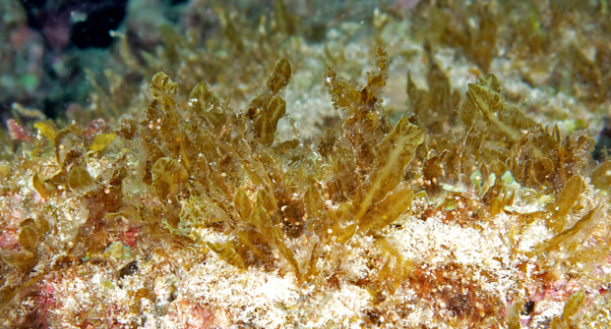 LK: ʻAe, ʻae, hahahaha. 
EK: "ʻAe! Mai, mai, kiʻi mai iaʻu!" A kou maʻalo aku i laila e kiʻi aku, ahhh ʻo ia ka piʻi ʻana mai o ke kai. 
LK: Hana nui ke loaʻa.
EK: Hana nui. No laila hana au i mele, haku au i mele no ka limu līpoa, ka limu kohu nō hoʻi a me ka līpalu. (LK: ʻAe.) Nā ʻano limu ʻono nō hoʻi kēlā. 
LK: ʻAe. ʻAe. Hahahaha. 
EK: A i ka hīmeni ʻana, a moni nō hoʻi ka haʻae. 
LK: ʻAe. Hahahaha. E moni like nō kākou i ko kākou ʻae.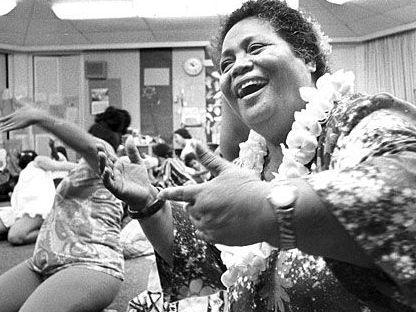 He hoʻoheno ke ʻike aku ke kai moana nui lā 
Nui ke aloha e hiʻipoi nei me ke ʻala o ka līpoa
He līpoa i pae i ke one, ke one hinuhinu lā
Wela i ka lā ke hehi aʻe, mai manaʻo he pono kēia
Hoʻokohukohu ē ka limu kohu, ke kau i luna o nā moku lā, 
ʻO ia moku, ʻū lā lā ē hō, ʻoni ana i ʻō i ʻaneʻi 
Haʻina mai ka puana, ka līpoa me ka limu kohu,
Hoa pili ʻoe me ka pāheʻe, ʻānoni me ka līpalu. 
LK: Mahalo! Mahalo.
Unihina (Translation):
LK: So, what is this song that you are going to sing now? 
EK: Well, this song, I wrote this song many years ago, because my favorite thing to do is to go to the ocean, go fish, gather limu, that's what I like to do, so I thought I ought to write a song about different kinds of limu. 
LK: Mmmm. 
EK: The first time I went to Lāʻie, I smelt the scent of the līpoa, oh! I was really fascinated by the līpoa. (LK: Yes.) The shimmering sands. The līpoa coming ashore.
LK: You really enjoy going to the beach, yeah? 
EK: Yes! Yes! I really do. And in Keaukaha, when we go and gather limu kohu, you swim out to small islets. 
LK: Rough seas, yeah? 
EK: Yes, yes. The waves get big. 
LK: Mmm
EK: And when you look at these islets, there's lots of limu kohu, but when you get near them, the ocean rises. 
LK: Yes. Yes.
EK: Yes, so, I was fixated on the limu kohu, as if it were waving, saying, "Yes! Come! Come get me!"
LK: Yeah, yes, hahahaha. 
EK: And when you get there to gather, ahh, the ocean rises. 
LK: It is difficult to gather. 
EK: Yes, difficult.
LK: Yes. 
EK: So, I created, I wrote this song for the līpoa, the kohu, and the līpalu. (LK: Yes.) Those are the delicious kinds of limu. 
LK: Yes. Yes. Hahahaha.
EK: And when you sing it, your mouth starts to water. 
LK: Yes, Hahahaha. All our mouths will be watering.
(Translation by Edith Kanakaʻole)

Such a delight to see
The great big ocean
So familiar and very cherished
With its fragrance of the līpoa
It is līpoa which washed ashore
Onto the shiny white sand
Hot from the heating sun as you step on it
Don't think that this is fun
How enticing is the display of limu kohu
Atop the rocks
Enticing one to pick them
As they sway to and fro
Let the story be told
Of the līpoa and the limu kohu
Close companions of the pāheʻe
Intermingled with the līpalu
LK: Mahalo! Thank you.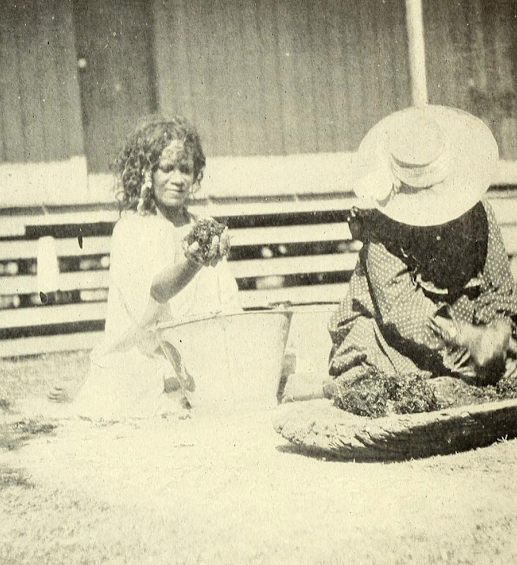 He Manaʻo na Kaliko:
Kumu Hula and associate professor of ʻŌlelo Hawaiʻi  at the University of Hawaiʻi at Mānoa, Kumu Kahikina De Silva, describes the kinds of aloha ʻāina that are enmeshed and entwined in mele, which is certainly the case with this deceptively simple composition. Aunty Edith Kanakaʻole gives a descriptive yet poetic account of the līpoa found in Lāʻie and the kohu found in Keaukaha. The spare English translation obfuscates Aunty Edith's poetic genius. Her story of the līpoa and the kohu are instructive. She reminds us of the kinds of foods that sustained Kanaka Maoli for centuries, an implicit act of aloha ʻāina through haku mele (composition) and an homage to limu. Only the kind of aloha and kamaʻāina that Aunty Edith embodied could provide the description of shimmering sands in Lāʻie and isles swimming in the sea off the shores of Keaukaha. Composers of mele like Aunty Edith make our mouths water over the abundance of limu and foods the sea can provide. 
Na Kalikoaloha Martin i palapala, unuhi, a kākau.
Na Hina Kneubuhl i hoʻoponopono a hoʻonohonoho.
Click here to access the full recording on Kaniʻāina.