A Shark Passes By
Mary Malo on fishing with her grandmother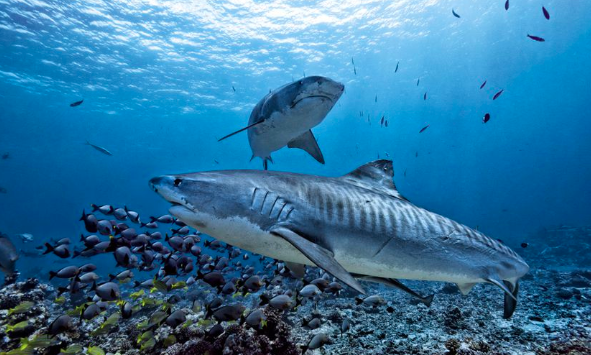 A listen and read along experience
In our Mānaleo Series, we provide short clips of a native speakers recorded on Ka Leo Hawaiʻi talking about an interesting experience or sharing knowledge. Below the clip is the transcript and a translation, so you can follow along as you listen. Play the clip multiple times and read along in either language. Our mahalo goes out to Larry Kimura for his work on Ka Leo Hawaiʻi and in building one of the most important archives we have of native speakers of ʻōlelo Hawaiʻi.
---
Directions
1. Press play on the video below (make sure the volume is up).
2. Scroll down and read along in Hawaiian.
3. Scroll back up and play the video again.
4. Read along in English.
5. Repeat as many times as needed.
Kikokikona - Transcript
Malo: Ke hoʻomaka koʻu kupunawahine e hele i loko o ka wai, hoʻomaka ʻo ia e namunamu. He pule ʻana paha kēlā. 
Kimura: He kaukau.
Malo: ʻĒ, kaukau. A pau, hele māua i kahakai. Kekahi hele ʻana o māua - ʻike ʻoe i kēlā mau pōhaku nunui i waho loa, i waho o Waimea? 
Kimura: Mmm
Malo: Kēia hele ʻana oʻu me koʻu kupunawahine, no ka mea, ʻo koʻu kupunawahine, ma ka lawaiʻa. Akamai ʻo ia i ka lawaiʻa. Wahine nui ʻo ia. Hāpai ʻo ia i kēia ʻupena, hele, maopopo nō ʻo ia kahi e hele ai e kuʻu i kēia ʻupena. Hele nō māua i laila, kuʻu ʻo ia, ʻōlelo ʻo ia iaʻu, hele wau i uka hōkai mai. Kēia hōkai ʻana mai, hele nō ʻoe e pili i ka ʻupena, loaʻa ihola nō ka iʻa, lawa. ʻOpiʻopi aʻela nō i kēia ʻupena, hoʻi. ʻO ke kala ʻoe, ʻo ka palani ʻoe, ʻo ka ʻenenue ʻoe, aia i loko o kēia ʻupena, hoʻi. Kēia lā māua i hele ai, hele ana māua kuʻi ʻopihi i waho o kēlā wahi. Kēia hele ʻana o māua, lohe wau i kēia kūkū oʻu, nānā ana, pau. Hele a namunamu ana paha, pehea lā, ʻōlelo mai, 'Hoʻi kāua, hoʻi kāua.' Well, kēia hoʻi ʻana o māua, hele nō māua a hiki i kula, kāʻalo ka manō. 
Unuhina - Translation
Malo: When my grandmother would start to go into the water, she would begin to chant under her breath. Maybe it was a prayer.
Kimura: An appeal.
Malo: Yeah, an appeal. When she was done, then we'd go to the shore. On one of our trips - you know those huge stones way out, outside Waimea? 
Kimura: Mmm
Malo: Well this trip of ours - cause you know, my grandmother, she fished. She was very good at fishing. She was a big lady. She would carry this net, go out, and she knew just where to go and throw this net. We go over there, she throws the net and then says to me, you go towards the shore and drive the fish this way. When you drive the fish like that, then you go close to the net and you've got fish; plenty. Then you fold the net up and go home. There's kala, palani, enenue, all in the net. This day we went, we were going to get ʻopihi outside there. We went and I heard my grandmother. She was looking, then she stopped and started chanting under her breath, or whatever it was. Then she said to me, 'Let's go back. Let's go back.' Well, when we went back, we got to the sand and a shark passed by.
---
Auē ke kahe wale mai o ka ʻōlelo mai ka waha wali mai o kahi Mary Malo. Kohu wai ʻolu e puapuaʻi ana, wai ʻono a hoʻokena nō hoʻi i ka makewai o ka puʻu hae e ake nui ana i ka ʻōlelo aloha o nā kūpuna. ʻAʻole o kana mai ka ʻeu a me ka hoihoi o kona leo leʻa. Ke ʻo ia haʻi moʻolelo, he hoʻonanea wale mai nō i ka pepeiao a lilo loa ka manaʻo i ka hoʻolohe iā ia. A pēlā nō paha e ʻike ai, he waha ʻōlelo ʻo ia e hoʻopili aku ai. A he mea nui kēlā no kākou kānaka e ʻimi mau ana i ka nani o ka ʻōlelo kupuna. Aia nō i loko o kāna ʻōlelo nā haʻawina he nui no ke kanaka e makemake ana e poeko kāna ʻōlelo ponoʻī. ʻAʻole wale nō no ke ʻano o kona leo a me ke kiʻina leo hoʻi, akā no ka maikaʻi a me ka ʻiʻo hoʻi o nā moʻolelo no kāna mau hana. A i laila kākou e ʻike ai ē, he kahua wale nō ka ʻōlelo e kū māloʻeloʻe ai ke kanaka, e kūkulu ai nō hoʻi ʻo ia i kāna mau mea e manaʻo ai. No laila, ke leʻaleʻa ka pepeiao a me ka manaʻo i ka ʻōlelo a Mary Malo, e noʻonoʻo nō paha kākou i nā HANA a kākou, nā mea hoʻi a kākou e kūkulu ai ma luna o kēia kahua he ʻōlelo, e ola ai kākou.
When learning a language that is not widely spoken and has few remaining native speakers, it can be tough to find models of speech to emulate. We are fortunate to have both Ka Leo Hawaiʻi and the audio collection amassed by Mary Kawena Pukui during her time at the Bishop Museum. Between these two repositories we have hundreds of hours of spoken Hawaiian we can study and learn from.
Within these archives there are a range of speakers, some more fluent than others. Some are both fluent and knowledgeable. And some are fluent, knowledgeable, AND good fun to listen to. That is Mary Malo.
Malo has an ease of speech that second language learners aspire to. She has the confidence of a person raised around other speakers whose daily activities kept multiple contexts of language alive.
This kind of language is invigorating to hear, specifically because it is rooted in real life. It reminds us that language is the soil, the nurturing medium in which other things grow.
So, as we listen to Mary Malo and other fluent speakers, let us take from their stories and voices the inspiration to build language around our daily activities as richly and specifically as our ancestors did. A task easier said than done, but one that will reap rich rewards for generations to come.
To access the full recording of this conversation between Mary Malo and Larry Kimura, click HERE.