alice nāmakelua
Waimea Kuʻu One Hānau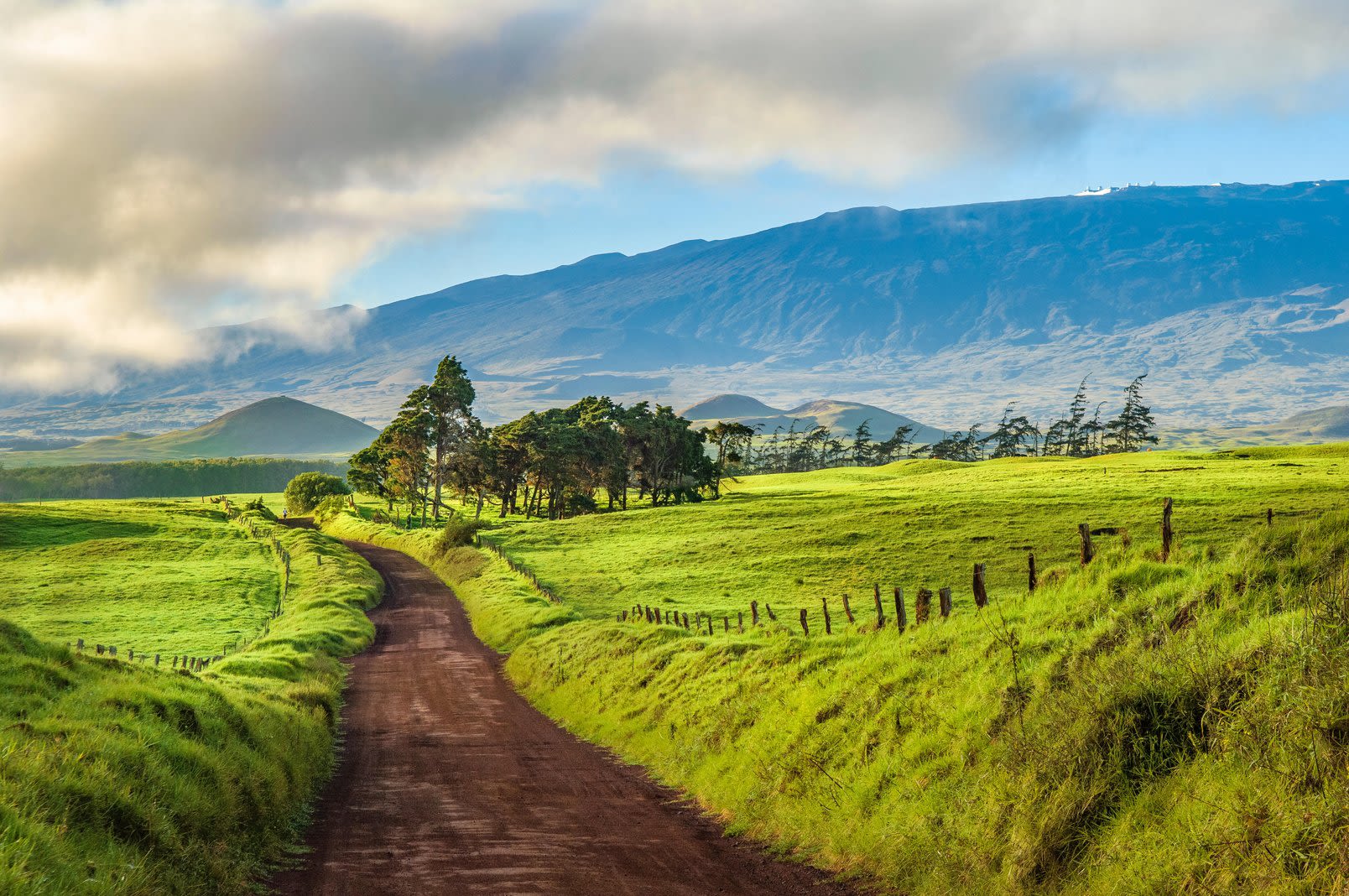 Moʻolelo: Kalikoaloha Martin
Moʻolelo: Kalikoaloha Martin
Mānaleo Series
These short clips of a native speakers on Ka Leo Hawaiʻi talking about their lives and practices are invaluable windows into our past, our language, and ourselves. Our mahalo kūhohonu goes out to Larry Kimura and Puakea Nogelmeier for their foresight in preserving the voices of these hulu kupuna.
Listen and read along:
1. Press play on the video below (ensure volume is up).
2. Scroll down and read along in the language of your choice.
3. Repeat as needed.
*Mobile users: Touch the video two times for the button on the upper left and minimize the window to listen and read at the same time.
Alice Nāmakelua talks about the song she composed for her homeland: Waimea Kuʻu One Hānau
Larry Kimura: Pehea i kēia manawa, mau nō kāu haku mele ʻana?
Alice Nāmakelua: ʻAe. Ke haku nei nō au i nā mele i kēia mau mahina ihola nō a loaʻa nō iaʻu kekahi mau mele, e kali ana au i koʻu, a, kōkoʻolua no ka hele mai e kiʻi iaʻu (LK: ʻĒ.) e hele i Honolulu nei, hiki maila kēia mele i loko o koʻu noʻonoʻo, lohe akula au i kēia mele, a ʻike ihola au, he mele maikaʻi kēia. Hoʻopaʻa ihola au ma luna o ka ʻāpana pepa i ka ʻōlelo a me ka leo o ke mele, i koʻu hoʻi ʻana mai i kēlā ʻauinalā, i kēlā ahiahi, hoʻomaka ihola au e hīmeni i kēia hīmeni, ʻike ihola au he, he mele maikaʻi loa kēia. Kūpono loa nō no ko kāua ʻāina no Hawaiʻi. ʻO ia hoʻi kēia mele aʻu i kapa ai ʻo– Noʻonoʻo au iā ʻoe i kuʻu mele ʻana i kēlā hīmeni a mana–, noʻonoʻo aʻela au iā ʻoe no ka mea mai Hawaiʻi mai kāua. 
LK: Ua hiki nō iā ʻoe ke hīmeni mai i kēia mele i kēia manawa, ʻo Waimea Kuʻu One Hānau. 
AN: Waimea Kuʻu One Hānau 
Nani Waimea kuʻu one hānau 
Kaulana i ka ua Kīpuʻupuʻu 
Me nā kuahiwi nani ʻekolu 
Nou mau koʻu hoʻohihi
Kaulana nō nā paniolo pipi 
Hiehie ma luna o nā lio 
Kau ē ka lei me ka hainaka nui
Hoʻohihi ʻoe ke ʻike 
Hāʻina ʻia kuʻu one hānau
Kaulana ʻĪkuā me Kaʻauʻa 
Nei mau keiki lawe a lilo 
I ka hae o ka lanakila. 
LK: He nani nō.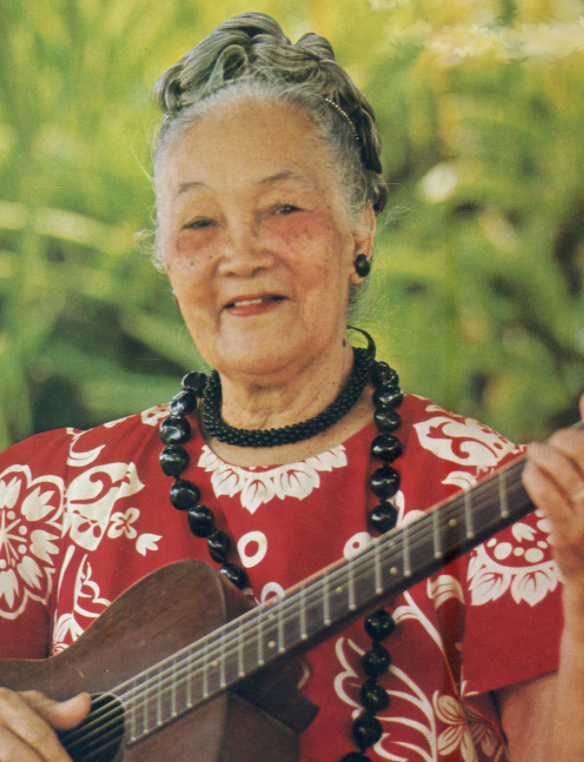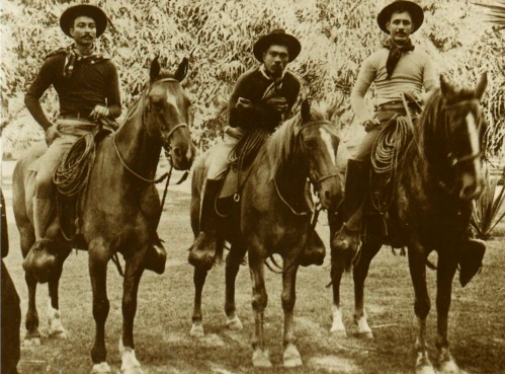 Archie Kaʻauʻa, Eben Low, Ikuā Purdy (Kaʻauʻa Collection)
Unihina (Translation): 
LK: So, now, do you still write music? 
AN: Yes. I am still writing, I am writing songs these past few months. I created one of these songs while I was waiting for my companion to come and take me here to Honolulu, this song appeared in my thoughts. I heard this song, and I knew that it would be a good song. I put down the words and the melody on a piece of paper and when I returned home that afternoon, that evening, I began to sing that song, and so I knew that this was going to be a very good song. It is appropriate for our birth land, Hawaiʻi. That is the song that I am calling–, I think of you when I sing this song, I thing of you because we are from Hawaiʻi. 
LK: Could you please sing this song, Waimea Kuʻu One Hānau? 
AN: Waimea Kuʻu One Hānau 
My birth land Waimea is beautiful, 
Renown for the Kīpuʻupuʻu rain, 
With the three stunning mountains,
My fascination is forever with you
The cowboys were famous, 
Elegant upon their horses, 
Bedecked with lei and long scarfs, 
One is enraptured at the sight
I've told of my birth sands 
Of ʻĪkuā and Kaʻauʻa, the famed 
The youths who really went and took
The flag of victory. 
LK: That is truly beautiful.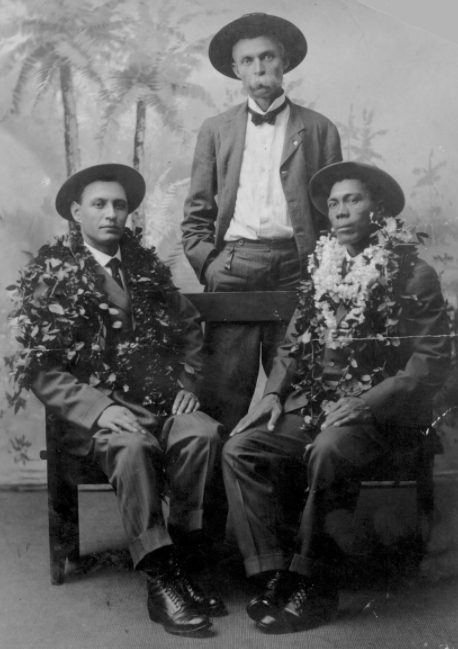 He manaʻo na Kaliko 
 Aunty Alice Namakelua has been featured many times in the course of Kealopiko's work to showcase native speakers who were fundamental in the language revitalization movement. Aunty Alice was a frequent caller and visitor of the Ka Leo Hawaiʻi program. She was also a prolific composer.
Nāmakelua shares with listeners how a song comes about in her head. This may not be a universal method for mele composition, but Namakelua highlights the serendipity of this art. Oftentimes a thought, memory, or melody strikes you from nowhere and a mele is born. Sitting waiting for a friend is a productive space for thinking. Doubly fascinating is her process of composition. She thinks up the mele–words and melody– puts them down to paper, stews on it in the course of her day, then comes home and explores the chords, riffs, and nuances that make a mele full-bodied. Aunty Alice teaches us there is never a dull moment in life. Sitting and waiting is a opportune time for creativity. 
Na Kalikoaloha Martin i palapala, unuhi, a kākau.
Na Hina Kneubuhl i hoʻoponopono a hoʻonohonoho.
Click here to access the full recording on Kaniʻāina.