Ka Hoʻokipa ʻAna
Hosting Friends & Loved Ones
ʻŌlelo ʻOhana Series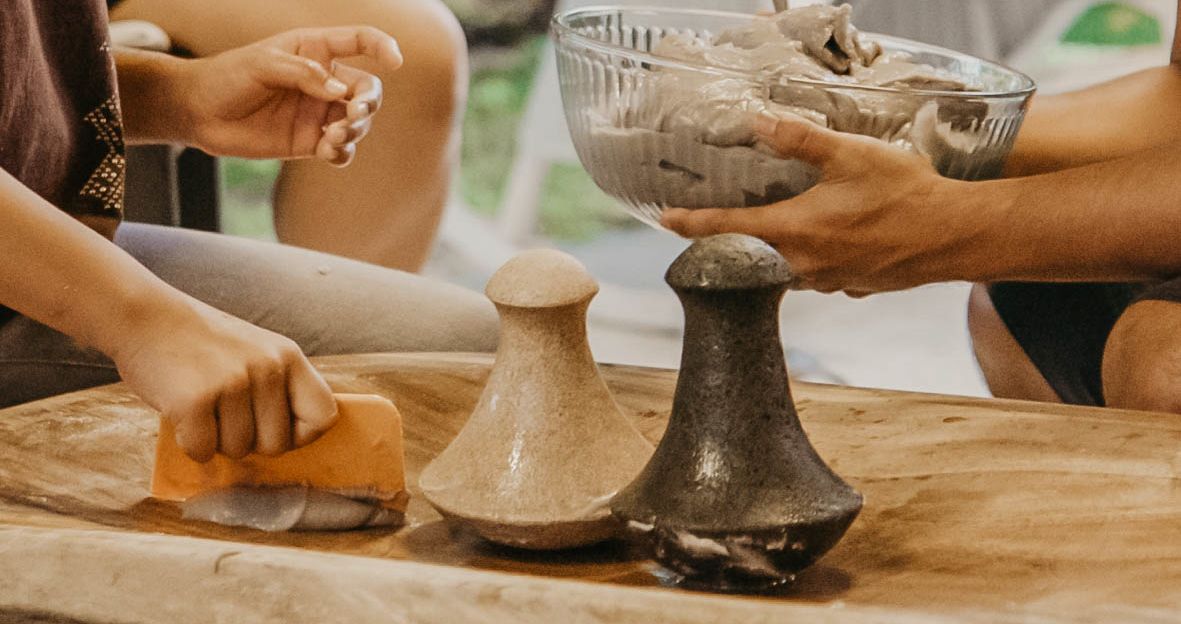 Words by Hina Kneubuhl, photos by Pekuna Hong
Words by Hina Kneubuhl, photos by Pekuna Hong
Aloha mai! The language in the ʻŌlelo ʻOhana series represents natural, everyday ʻōlelo as I have used it in my ʻohana or picked up from others. Some scenarios are real, others are made up, but all include viable, daily language for the family setting. Nothing too fancy, just everyday stuff. Ours is just one of several hale and ʻohana where ʻōlelo Hawaiʻi is alive, so this is just one style. We hope you find it helpful as you develop your own.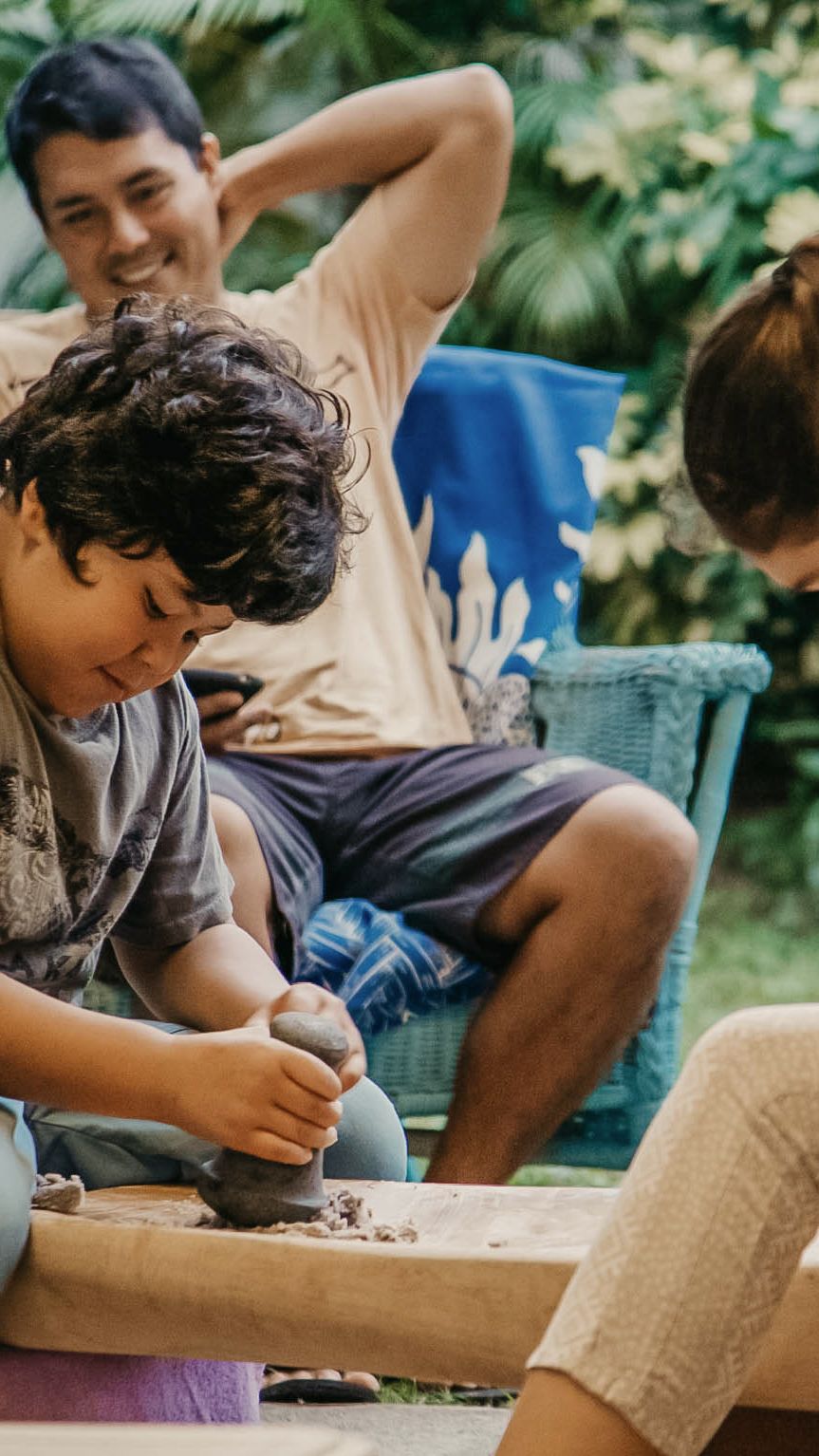 Note: The translations here are not direct or formal. In terms of the language content, it was not "parsed out" for a 101 level class, a 202 level learner, etc. Language at home is not broken up or organized that way. Like the rest of family life, it's wild and unfenced, spontaneous and changing all the time. In conversation, a response often hinges on or leverages off the statement that came before it, so many of these might not seem like "complete" sentences. Don't let that throw you off. It's the beauty of language in its natural state!
E ola ka ʻōlelo o ka hale!
---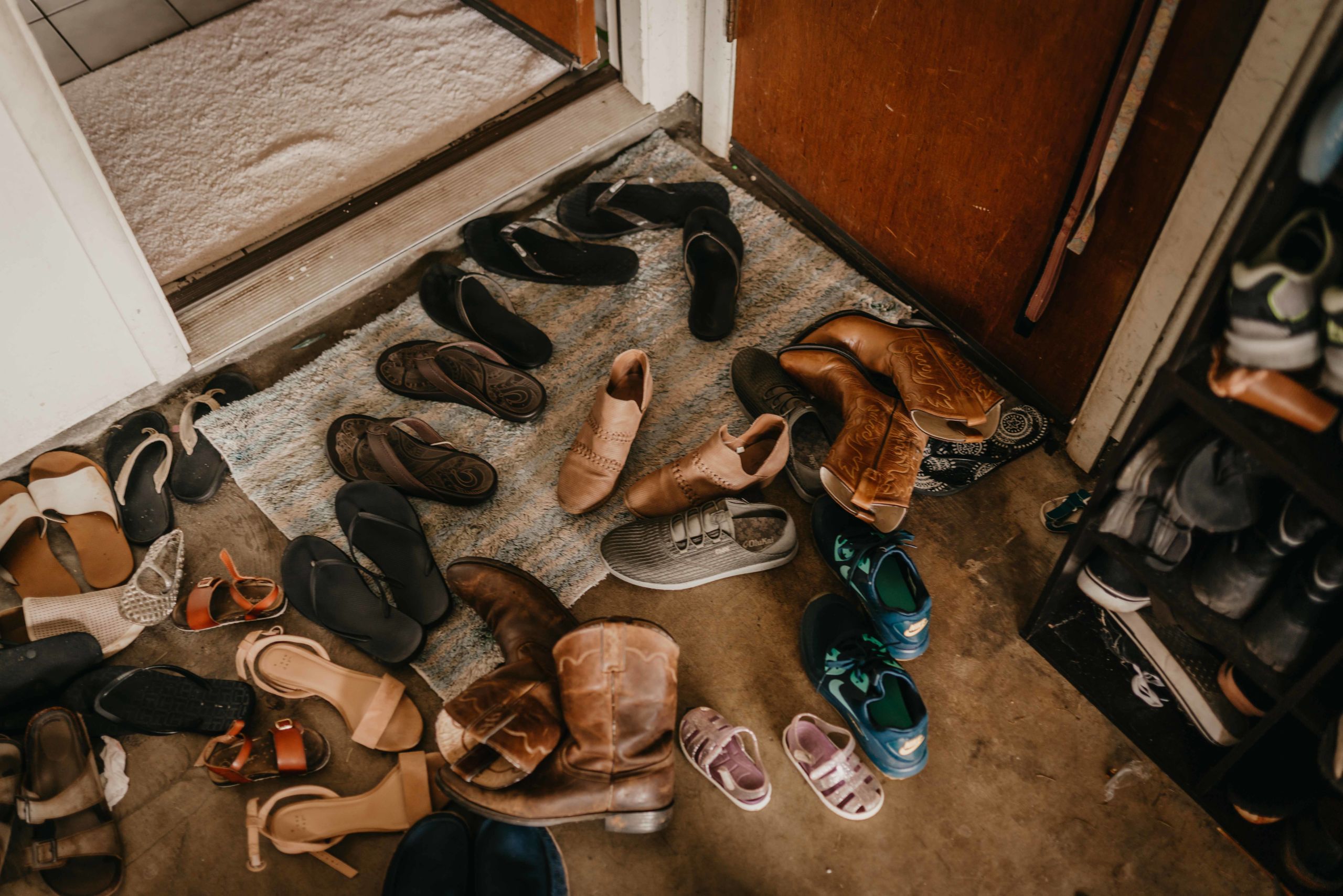 Ka Hoʻokipa ʻAna - Hosting friends and loved ones
SCENARIO: A family prepares for and hosts a dear friend. [These conversations focus on the interactions of one young girl with her mom and aunty.]
Māmā: E Koʻiawe, ʻelua wale nō hola koe a hiki mai ʻo ʻAnakē Ulu. E hoʻoponopono kāua i ka lumi hoʻokipa.
Hey Koʻiawe, there's only a couple hours left before Aunty Ulu gets here. Let's clean up the living room.
Koʻiawe: Hiki nō, e Māmā.
Ok, Mama.
Māmā: E hoʻihoʻi aku ʻoe i nā mea pāʻani. E wākiuma au i ka moena weleweka.
You put the toys away. I'll vacuum.
Koʻiawe: No wai kēia lākeke?
Whose jacket is this?
Māmā: No Pāpā. E lawe aku i ka lumi moe.
It's Papa's. Take it to the bedroom.
Koʻiawe: Pehea kēia mau pua mae, e Māmā?
What about these wilted flowers, Mama?
Māmā: Ua pau ka pono. E kīloi aku i loko o ke kini pulu nui ma waho.
They're done. Throw them in the compost bin outside.
Māmā: Ke pau kēlā, e hoʻoponopono ʻoe i nā uluna o ka noho ʻoluʻolu.
When you are done with that, fix up the pillows on the couch.
In the kitchen - Ma ka lumi kuke
Māmā: Ke kuʻi nei ʻo Pāpā lāua ʻo ʻAnakala Keoni i ka ʻai. Na kāua e hoʻomākaukau i ka saleta.
Papa and Uncle Keoni are pounding ʻai. You and I will make the salad.
Koʻiawe: He aha kā kākou iʻa?
What are we having along with the ʻai?
Māmā: He moa. Ua pau i ke kōʻala ʻia. E hoʻomehana wale nō kāua ke hiki mai ʻo ʻAnakē.
Chicken. It's been grilled already. We just have to heat it up when Aunty gets here.
Māmā: E waʻu ʻoe i ke kāloke a me ka ʻawapuhi. E hunehune nō ka ʻawapuhi.
[Can you please] grate the carrots and ginger. The ginger should be [grated] very fine.
Koʻiawe: ʻImi akula au i ka mīkini waʻu, ʻaʻole i loaʻa.
I looked for the grater and I can't find it.
Māmā: E nānā ma ka haka kaulaʻi pā.
Look in the dish rack.
Koʻiawe: ʻĀ! Ma ʻaneʻi nō.
Ah! It's here.
Māmā: Ke pau ka waʻu ʻana i ka ʻawapuhi, e hoʻokomo i loko o kēia pola liʻiliʻi.
When you are done grating the ginger, put it in this little bowl.
Māmā: Mahalo. ʻImia ke puna liʻiliʻi a e hoʻāli iho i kēia kai.
Thanks. Look for a small spoon and stir this dressing.
Māmā: ʻAuhea kēlā paʻakai a ʻAnakē Ane i makana mai ai? E kāpī liʻiliʻi paha.
Where is that salt that Aunty Ane gave us? We should sprinkle a little bit in.
Koʻiawe: Ua lawa kēia, e Māmā?
Is this good, Mama?
Māmā: Ua maikaʻi wale. E ninini mālie ma luna o ka saleta.
That's great. Pour it over the salad slowly.
Māmā: ʻO ia lā! E ʻauʻau ʻoe a ʻaʻahu i ka lole maikaʻi.
That's it! Have a shower and put on your nice clothes.
Hiki mai ke hoa - The guest arrives
Māmā: Aloha mai! E komo mai!
Aloha! Come in!
Koʻiawe: Aloha e ʻAnakē Ulu!
Hi, Aunty Ulu!
ʻAnakē Ulu: Aloha kāua e Koʻiawe! Mai e pūliki! Nui aʻela nō hoʻi ʻoe, e kuʻu keiki!
Hi, Koʻiawe! Come give me a hug! You've gotten so big, my niece!
Koʻiawe: I kōkua, e ʻAnakē?
Can I help you, Aunty?
ʻAnakē Ulu: ʻAe. Lawea aku kēia pipi kaula i kahi o ka pūpū. Mahalo.
Yes. Take this pipi kaula to where the pūpū are. Mahalo.
Koʻiawe: ʻŪ! Pipi kaula!
Oooh! Pipi kaula!
ʻAnakē Ulu: ʻIke nō au, he puni kēlā nāu.
I know that's one of your favorites.
Koʻiawe: I mea inu paha nāu, e ʻAnakē?
May I get you a drink, Aunty?
ʻAnakē Ulu: Maikaʻi paha kahi mea e ʻolu ai ka puʻu.
Oh, it might be nice to have something to wet my whistle.
Koʻiawe: ʻO ka waina keʻokeʻo kāu inu maʻamau, ʻeā?
White wine is what you usually like, yeah?
ʻAnakē Ulu: Hō kou nānā pono mai, e kuʻu lei. Pēlā nō.
Oh you pay such close attention/take such good care, my dear. That's right.
Koʻiawe: E kiʻi aku au.
I'll get it. [i.e. Mom will pour it and I will bring it to you]
Koʻiawe: Eia kāu inu, e ʻAnakē.
ʻAnakē Ulu: ʻO ʻoe lā, hana nō a mikioi, lawe nō hoʻi a ʻauliʻi! Mahalo!
You, so clever and sweet. Mahalo!
ʻAnakē Ulu: He aha kāu mea inu?
What are you having?
Koʻiawe: ʻO ka root beer kaʻu.
I'm having root beer.
ʻAnakē Ulu: E kāmau kīʻaha i ʻolu!
Cheers!
Koʻiawe: Kāmau!
Cheers!
A lovely evening of food, drinks and good conversation follows.
Haʻalele ke hoa - The guest leaves
Māmā: E Koʻiawe, ke hoʻi aku nei ʻo ʻAnakē. E kiʻi ʻoe i ka hoʻina. Aia i loko o ka lumi kuke. He pahu ea.
Koʻiawe, ʻAnakē is going home. Get the hoʻina* for her. It's in the kitchen. It's a tupperware.
Koʻiawe: Eia, e ʻAnakē.
Here you go, Aunty.
ʻAnakē Ulu: ʻŌ! Mahalo nui!
Oh! Mahalo nui!
Koʻiawe: Āhea ʻoe e hoʻi mai ai?
When will you come back?
ʻAnakē Ulu: A kēia mahina aʻe paha, e ke onaona. He ʻoluʻolu kēlā i kou manaʻo?
Maybe next month, my sweetie. Does that sound good to you?
Koʻiawe: ʻAe.
Yes.
ʻAnakē Ulu: Ua mehana maoli nō ka hale i ke aloha. Mahalo nui kēia hui ʻana o kākou!
It was so nice to be in your home. Thanks for a lovely time together!
Koʻiawe: ʻAe. Mahalo. A hui hou, e ʻAnakē.
Yes. Mahalo. See you later, Aunty.
ʻAnakē Ulu: ʻAe. Ke aloha nō!
Yes. Aloha!
---
*Hoʻina: 2. Farewell gift, as to a parting guest after a feast. (If there are leftovers, they are often packed up and shared :)
To see more of Pekuna Hong's work, check her out at @kickingbirdphotography and her website.
*If you see errors or think of ways to improve upon these dialogues, please email kauamelemele@gmail.com
MAHALO!