A lei for a beloved grandchild
Kalehua Kaleikoa shares a story about her tūtū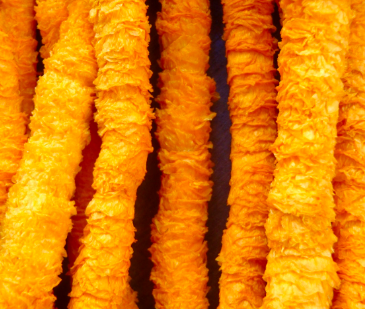 A listen and read along experience
In our Mānaleo Series, we provide short clips of a native speakers recorded on Ka Leo Hawaiʻi talking about an interesting experience or sharing knowledge. Below the clip is the transcript and then a translation, so you can follow along as you listen. Play the clip multiple times and read along in either language. Our mahalo goes out to Larry Kimura for his work on Ka Leo Hawaiʻi and in building one of the most important archives we have of native speakers of ʻōlelo Hawaiʻi.
---
Kalehua Kaleikoa is one of the most charismatic speakers ever to be interviewed on Ka Leo Hawaiʻi. She visits the show multiple times. Not only is her language fabulous, but she's funny, witty, and full of amazing stories. This kupa (native) of Oʻahu grew up in a time when life was very different.
One of the most amazing things about this clip is the hearing about the aloha that Kalehua Kaleikoa's grandmother had for her, as evidenced by her daily ritual: waking up at dawn to pick ʻilima blossoms and string them into a lei for her beloved moʻopuna (grandchild, i.e. Kalehua) to wear to school.
One day, when she wears her lei to school and her teacher gushes over how beautiful it is, Kalehua finds herself in a cultural quandary. Listen to the clip below to find out what happened...
---
Directions:
1. Press play on the video below (make sure the volume is up).
2. Scroll down and read along in Hawaiian.
3. Scroll back up and play the video again.
4. Read along in English.
5. Repeat as many times as needed.
Kikikikona - Transcript
Kaleikoa: Hele ʻo ia, ʻako i ka wanaʻao, ka manawa ʻōpuʻu. Pau, hoʻi mai, kui ʻo ia i lei noʻu e hele ai i ke kula. ʻAʻole hoʻokahi lā ʻaʻole wau lei i ka ʻilima ke hele wau i ka hale kula. Ka mea ʻāpiki, nānā maila kuʻu kumu kula, ʻo Kalalo Mokumaiʻa, "Auē, e Kalehua, uʻi maoli ʻoe! Kou lei ʻilima!" Hoʻomaoe maila ʻo ia, eh. 
Kimura: ʻĒ.
Kaleikoa: So, wehe wau i kuʻu lei mai kuʻu ʻāʻī, hāʻawi nona. Hāʻawi wau iā ia. [ʻŌlelo mai nei ʻo ia,] "Auē, mai hana ʻoe [pēlā]!" [Pane aku nei au,] "ʻAʻole pilikia." And, ka mea ʻāpiki, pau ke kula, hoʻi aku nei wau, ʻaʻohe lei o kuʻu ʻāʻī. ʻŌlelo mai nei kuʻu kupunahine me kēia nei, "Auē! Aihea aku nei kou lei?" ʻŌlelo aku nei au me kēia nei, "Hoʻomaoe mai nei ke kumu kula iaʻu." Ohhhh, huhū koʻu kupunahine! [ʻŌlelo mai nei ʻo ia,] "ʻO ia ihola kaʻu hana e hele ai i ka wanaʻao, e ʻohi ai i ka ʻilima a pau, hoʻi mai, hana wau nou? Nou koʻu makemake e lei ʻoe iā ia a hiki i ka maloʻo ʻana ma luna o kou ʻāʻī!" ʻAʻole hoʻolohe ʻia.
Unuhina - Translation
Kaleikoa: She would go at dawn and pick them when they were buds. When she was done, she'd come back and string a lei for me to wear to school. There wasn't a single day I didn't wear a lei ʻilima to school. The tricky thing was, [one day] my teacher looked at me and said, "Oh my, Kalehua, you look so beautiful! Your lei ʻilima!" She wanted my lei, eh.
Kimura: Yeah.
Kaleikoa: So, I took my lei off my neck and gave it to her. [She said] "Oh no! Don't do that" [and I said,] "It's no problem." However, when school was over and I went home, I had no lei on my neck. My grandmother spoke to me and said, "Oh! Where has your lei gone?" And I said to her, "The school teacher hinted to me that she wanted it." Ohhhhh, my grandmother was mad! "That's what I get for getting up at dawn and gathering blossoms to make you a lei?! I want YOU to wear that lei until it dries up on your neck!" I hadn't listened to her.
---
Kahi mea e nūnē ai ka manaʻo (Food for thought): Kalehua was caught between a rock and a hard spot. On the one hand, the cultural norms of Kalehua's time were such that if someone complemented something you had, you gave it to them.
Kalehua uses the term hoʻomaoe (vt. To ask indirectly; to hint or suggest, as in asking; to imply, allude). So in Hawaiian, when you say something that belongs to someone else is nice or beautiful, you are "dropping the hint" that you want it. This sounds crazy to people from other cultures, where complementing is commonplace. [What is commonly taught in Hawaiian language classes today is to complement the person, rather than "thing" they have or are wearing (ex: Nani ʻoe i kou lole hou - You look beautiful in your new dress. Kohu kēnā pālule iā ʻoe - That shirt is becoming on you).]
On the other hand, Kalehua had been given the lei by her grandmother, who made it just for her. Was it all her effort being so quickly handed away to someone else that upset her? Or was it something else? It was probably still common practice in Kalehua's time to only share lei or clothing among family members. Such things contain a person's mana and are not carelessly handed out or given away, lest that mana fall into the hands of someone with ill intentions. Could this be the real reason her grandmother was upset?
Whatever the case, Kalehua found herself in a tough position. Keep her lei and disappoint her teacher? Give away her lei and disappoint her grandmother? These kinds of cultural quandaries and clashes must have been common in her time. What would you do if you were in Kalehua's position? That is definitely something to ponder.
Access the complete recording of Kalehua Kaleikoa by clicking HERE.
Mahalo to @kinikohucards for the lei ʻilima picture.