Signs in The Heavens
Calenthe Plunkett passes her knowledge on
to her grandchildren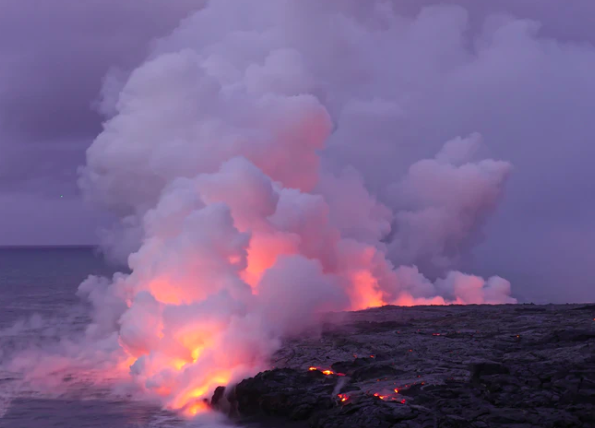 A listen and read along experience
In our Mānaleo Series, we provide short clips of a native speakers recorded on Ka Leo Hawaiʻi talking about an interesting experience or sharing knowledge. Below the clip is the transcript and a translation, so you can follow along as you listen. Play the clip multiple times and read along in either language. Our mahalo goes out to Larry Kimura for his work on Ka Leo Hawaiʻi and in building one of the most important archives we have of native speakers of ʻōlelo Hawaiʻi.
---
Nani nō hoʻi ka hoʻoili ʻia aku o ka ʻike a me nā haʻawina i ka moʻopuna i ke alo. No ka nui o nā moʻolelo maikaʻi a Calenthe Plunkett no kona hānai ʻia ʻana, ua paʻakikī ke koho ʻana i ka māhele leo e hoʻolele aku ai! Ulu nō naʻe ka hoi i kēia haʻawina no nā ʻouli o ka lani ke hū mai ka pele. Ma kēia māhele leo, hōʻike ʻo Calenthe i kona aʻo ʻana i kāna poʻe moʻopuna, akā ma mua pono o ia ʻōlelo, wehewehe mai ʻo ia i ke aʻo ʻana o kona makuahine i ia mea like iā ia. Hū kona aloha i kona mau mākua a he hiki nō ke ʻike, ua mehana wale ka pilina ʻohana.
The passing on of knowledge from grandparent to grandchild is a beautiful thing. Because Calenthe Plunkett has so many wonderful stories, choosing a single one to highlight was difficult. This particular Haʻawina about the signs in the sky that signal that a volcanic eruption has happened is fascinating. In this clip, Calenthe talks about teaching her grandchildren these signs, but she talks just before that about her parents teaching her. She expresses so much love for her parents and you can tell that their family relationships were warm and close.
Directions
1. Press play on the video below (make sure the volume is up).
2. Scroll down and read along in Hawaiian.
3. Scroll back up and play the video again.
4. Read along in English.
5. Repeat as many times as needed.
---
Kikokikona - Transcript
Plunkett: Kaʻu poʻe moʻopuna, ʻōlelo mai, 'E, kupuna, na wai i ʻōlelo mai iā ʻoe ua hū ka pele?' ʻĪ aku wau, "A nānā nō hoʻi ka maka. Nānā ka maka i luna, a hoʻolohe iaʻu, kaʻu aʻo, i maopopo iā ʻoukou."
Kimura: Pehea lā ke ʻano o ke ao ke hū maila ka pele?
Plunkett: Ke hū mai ka pele, e nānā ʻoe i ke ao, hele a ʻula! ʻUlaʻula, kohu ʻalani. Kohu ʻalani ke kala, hiki nō iā ʻoe [ke ʻike] a hū ka pele! Kekahi manawa nānā aku ʻoe i ka mea, i ke ao, ʻeā, kohu uahi. Ke ʻoe hele i ke alanui, kalaiwa ana ʻoe i ke kaʻa a nānā ʻoe i ke kai, hiki nō iā ʻoe ke maopopo, kai pele kēlā. ʻAʻole e hele! ʻAʻole e hele. Nānā aku ʻoe i ka poʻe i kēia manawa, auē! Ke kau maila i ka papa heʻe nalu. He nalu pilikia kēlā! ʻAi kanaka.
Unuhina - Translation
Plunkett: My grandchildren would say, 'Hey, Grandma, who told you the volcano was gonna erupt?' I'd say to them, 'Look with your eyes. Look up, and listen to me, to what I'm teaching you, so you guys know.'
Kimura: What are the clouds like when the volcano erupts?
Plunkett: When the volcano erupts, you look at the clouds, they come red! Red and orange. The color is sort of orange and you can tell the volcano is erupting. Sometimes you look at da kine, the clouds, eh, they look like smoke. When you go on the road and drive car, you look at the ocean and you can see the ocean has a certain look during an eruption. You don't go in! No going in. And look, people nowdays, oh! They go surfing [during that time]. That's a wave that will bring you trouble! That kind of wave destroys people.
Access the complete recording of Calenthe Plunkett by clicking HERE.