The Big Pipipi
Abigail Kaleiheana learns sustainable collecting
from the women in her family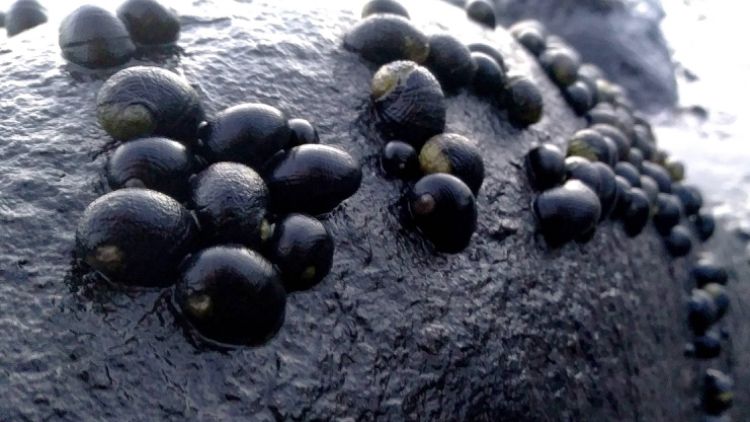 A listen and read along experience
In our Mānaleo Series, we provide short clips of a native speakers recorded on Ka Leo Hawaiʻi talking about an interesting experience or sharing knowledge. Below the clip is the transcript and a translation, so you can follow along as you listen. Play the clip multiple times and read along in either language. Our mahalo goes out to Larry Kimura for his work on Ka Leo Hawaiʻi and in building one of the most important archives we have of native speakers of ʻōlelo Hawaiʻi.
---
Directions
1. Press play on the video below (make sure the volume is up).
2. Scroll down and read along in Hawaiian.
3. Scroll back up and play the video again. 4. Read along in English.
5. Repeat as many times as needed.
Kikokikona - Transcript
Kaleiheana: He ola ma laila. Pēlā me ke kahakai. ʻŌlelo mai lākou, ʻaʻole e hana ʻino i ke kahakai.
Kimura: ʻAe
Kaleiheana: A i loko o kēia mau lā, he aha ka mea ʻike ʻia? Ua nele!
Kimura: ʻAʻohe mālama i ka ʻāina.
Kaleiheana: ʻAʻohe i mālama ʻia ka maʻemaʻe o ka noho ʻana. 
Kimura: Minamina nō.
Kaleiheana: Yeah. Minamina. No ka mea, ko mākou wā, ʻo Waimea, ke hele mākou i ke kahakai, ʻōlelo mau ana ko mākou mau ʻohana - aunty a makuahine - a ʻōlelo mai, 'E, Pēpē mā, ʻaʻole e ʻohiʻohi i ka pipipi liʻiliʻi. Nānā [i] ka pipipi nunui.' A hele mākou, nānā, 'Me kēia nei?' 'ʻʻĒ, me kēnā ka nunui. ʻO ia wale nō ka mea e ʻohi ai. ʻAʻole e ʻohiʻohi i ka mea liʻiliʻi.' A pēlā mākou e ʻohi ai. Akā i loko o kēia mau lā, piha i nā lāhui ʻē, he kope mai nō a pau, hoʻihoʻi i ka hale, a pau, kīloi i ka mea liʻiliʻi, me ka mea nunui e ʻai ai. No laila nele. Nele.
Unuhina - Translation
Kaleiheana: There's life there. As there is at the seashore. 
Kimura: Yes.
Kaleiheana: And these days, what do we see? The seashore is lacking!
Kimura: The land is not cared for.
Kaleiheana: Clean living has not been maintained.
Kimura: It's sad.
Kaleiheana: Yeah. It's sad. Because in our time, in Waimea, when we went to the ocean, our family always said - our moms and auntys - 'Hey, little ones, don't collect the small pipipi. Look for the big ones.' So we would go and search [and say], 'Like this size?' 'Yes. That big.' And that is how we would collect them. But these days, we are inundated with people from other places. They scrape the rocks clean, take everything home, then throw away the little ones and only eat the big ones. So, there is a lack. The seashore is deficient.
---
Aʻole e ʻole ka loli ʻana o nā mea like ʻole a pau, pū nō me ke ola o ke kahawai a me ke kahakai, nā wahi nui ʻelua i ʻimi ai nā kūpuna i iʻa e ola ai ka ʻohana. Ua ʻike ʻo Abigail Kaleiheana i ke emi ʻana mai o ke ola o ia mau mea nui ʻelua a he nui kona mau manaʻo i hōʻike aku ai i loko o ke kamaʻilio ʻana me Larry Kimura. ʻAno pinepine kāna ʻōlelo ʻana mai, "Ua piha kākou i nā lāhui ʻē." He ʻoiaʻiʻo nō ia a ua ʻoi aku nō i kēia wā ma mua o kona wā o ke ola ʻana. ʻO ka ʻanunu a me ka hului pau, e like me ka mea a Kaleiheana e ʻōlelo ai ma kēia māhele leo, he kūʻē kēlā i nā loina Hawaiʻi a me ke aʻo o nā kūpuna. Inā naʻe ʻaʻohe kupuna e hōʻike aku ai, pehea lā hoʻi e aʻo mai ai nā kānaka ʻike ʻole i ke ʻano o ka ʻohi pono ʻana? He nīnau paha kēia e nūnē iho ai.  Maliʻa he mau manaʻo ko nā hoa o KUA a me nā hui mālama ʻāina ʻē aʻe o ko kākou kaiāulu.
Change is the only constant in life, especially environmental change. The health of Hawaiʻi's rivers and oceans has been on a steady decline as the burgeoning population of our islands needs more and more resources and, consequently, produces more and more waste, or "pelapela" as Abigail Kaleiheana puts it. Although she talks in this clip about learning to harvest in a way that ensures a future supply, this clip comes out of a larger discussion she and Larry Kimura have about the declining health of these two major food sources. Click the link below to access their full conversation.
To access the full recording of Abigail Kaleiheana's conversation with Larry Kimura, click HERE.